Troubleshooting Streaming Video
Try watching at a lower quality
CMDA live streams are available in multiple bitrates and stream high definition video. However, not all viewers' devices, internet connections, or technical setups can handle the highest quality from our stream. If you are watching on a mobile device the bitrate will adjust automatically. If you are watching on a laptop or desktop computer, you can manually adjust the bitrate you are watching if you are having issues.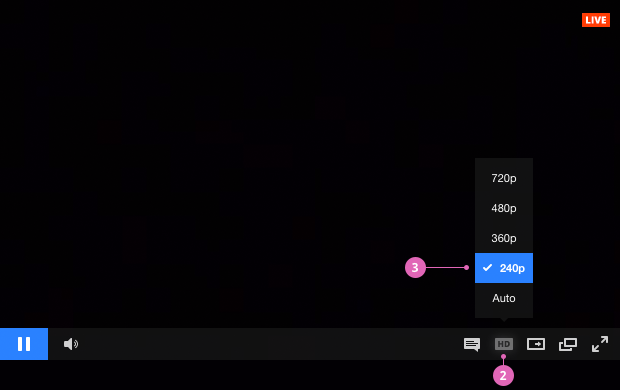 1. Hover over the player bottom bar and look for the quality setting (usually set to HD).
2. Click on the menu to select your video quality, 1080p, 720p, 480p, 360p or 240p. You can also select Auto.
3. Start by selecting 240p (lowest quality) and try watching. You will notice a much lower quality video image, but the stream should be easier for your bandwidth and CPU to playback smoothly. If it is smooth at 240p, you can then try stepping it up to 360p, 480p, and so on to increase the quality to see where the threshold is for your particular setup.
Update Your Web Browser
We recommend watching on an up-to-date version of Firefox or Chrome. Go here to get the latest version of Firefox or Chrome. We DO NOT recommend using Internet Explorer as it has a long track record of problems. If you do this during the live streaming event, you will need to rejoin the event once the update has completed (usually a few seconds for most people).
Check Your Internet Connection & Bandwidth
A possible cause of choppiness or pausing playback is insufficient CPU resources on the viewer side (your computer's ability to handle the stream). Older computer's graphics cards may have a difficult time encoding and decoding live and even recorded video.  We recommend shutting down all other applications and browser tabs/windows while viewing if you are experiencing playback problems. This means, closing email, text, and other applications that may be using resources on your device.
Watching live streaming content can be fairly CPU intensive, especially our High Definition (HD) content. It is best to have a dual core system that is less than two years old that has a discrete (non-integrated) graphics card. Intel Core i3, i5 or i7 CPUs or the AMD equivalent are preferred. Netbooks or low power systems should be avoided. You can check the CPU load in the Task Manager (Windows) or Activity Monitor (Mac OS).
Disable or Enable Hardware Acceleration
Hardware acceleration means that your computer's graphics card is used to render the stream on your screen rather than decoding and rendering in software. The advantage is typically smoother playback, less battery drain and less overheating. In some cases, hardware acceleration does not function properly and the stream will go black or you will see a "stuttering" or "skipping" effect where everything is jittering. If you see this symptom or are seeing low frame rate playback, try enabling or disabling hardware acceleration using these steps:
Right click on the player
Choose settings
Click on the far left tab that looks like a screen
Check or uncheck the box that says "Enable Hardware Acceleration"
Click close
Refresh the page
Check that content is not blocked by an ad-blocker, firewall, or being filtered on your local network
Particularly if you are watching at a school or in a corporate environment, it is possible that a firewall or content filter is blocking our content. If you see a black screen instead of the live video stream, this is one of the possible causes. If you have any ad-blockers installed, disable those in your browser for the page where our feed is being streamed. You may need to talk to your network administrator or control it yourself, this article explains which ports need to be enabled to allow our viewing and broadcasting through your firewall. If you are using a VPN, try disabling the VPN and viewing while not connected with a VPN. (This article is not yet updated).